Steve's Log- April 22, 2014
Hey all my little Pulcimaniacs, Stevey P back here of another installment of my personal brand of truth, knowledge bombs, poor use of proper grammar, very little punctuation and vulgarity.
Let's talk about the hard, crisp shot to the balls I received today from my none other than my very own mother of all people! It's well documented that I have had about a dozen surgeries that took place in my lower extremities, and despite what my doctors say, what my training partners say, what every fiber of my bodies screams out to me I STILL squat and train my legs to the fullest extent of my mutinous connective tissue. I shit you not, if 90% of the people reading this felt like I did when I wake up in the morning, you would cry to your momma, call your boss and tell him to put you on permanent workman's comp and summon the ambulance. Â I'm not kidding, it's fucking brutal being me. So today while I was putting it all on the line bravely squatting with visions of legs as if stone pillars and glutes like beach balls I look up and my mother, who never comes in here, comes walking through the door out of the blue. I don't think she has ever witnessed me lift weights since I was fourteen and used to bench three feet from her folding our laundry in our basement so I said "come here Mom, watch me do this last set, I may need you to identify the body before the paramedics zip up the bag".
Of course she immediately gets all panicky like she thought I was seriously going to die as she stood there watching me. I executed the set flawlessly yet painfully and her only reaction, in front of all my gym bros and swolemates mind you, was priceless, "Oh Stephen! You are going to hurt yourself trying to lift all that weight with your skinny little legs!" OUCH! Of course everyone in the room is dying because let's face it, who else is going to get away with saying that to me? Thanks for the uplifting visit Mommy, now everyone knows where I get it from.
I happen to catch a piece on the news yesterday about the 136th annual Easter Egg roll on the White House lawn today. It's been a tradition all these years to have the kids come on the lawn and play games all morning and then the kids would get candy. But it's a new age, a different time and kids are fatter than ever now. Mr President and Mrs Obama are keen to what's happening where child obesity is concerned and they have figured out just how to take the first steps to cure it. Instead of the White House providing evil candy to the hundreds of kids there they gave them all Kale Smoothies! Really? On the ONE day of the year kids can actually let loose and have a bit of candy you gave them kale? I can only imagine politically incorrect shit these kids must have been thinking when they tasted that crap. It's bad enough they made them do lame-o olde timey games like roll eggs around with a spoon when they really wanted to be playing call of duty and learning to kill, kill, kill. Â C'mon now Obama, these kids are a tad more sophisticated these days, that spoon egg shit went out in 1887. Give the fatties some scooters to ride and a freaking marshmallow peep or a god damn Cadbury egg or something, it won't kill them . . . till much later of course, and by the time they develop type two diabetes Obama will be out of office so it's a no lose situation him. Someone in Washington should hire me as the adviser . . . of keeping shit real!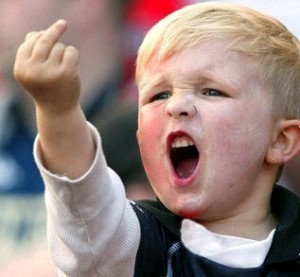 That's right kid, you tell them!
I wrote in yesterdays log that I asked my night time guy Crazy Howie to get a decent broom and dust pan for the gym. He did get a proper broom and pan BUT, Â here is what the genius did with it last night! Yes, he is recycling my chalk buy sweeping it off the floor and dumping it back into the bowl. Which may sound like a noble venture, until you realize that he also putting all the dirt, dust, pubes, boogies and finger nails that were on the floor into the bowl where we all put our hands fifty times a day! Which by the way, doesn't even put Howie in the top ten of the worst employees I have ever had. But his star is certainly rising. . . or falling in this case.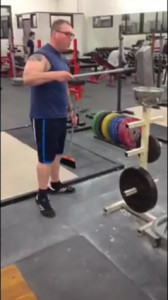 A fucking genius in action! Just look at him trying to please me. He is the Lenny to my George.